Sure to elicit squeals, shrieks, and many, many repeated readings.
Help! The Wolf is Coming!
Oh no! The wolf is coming! He's getting closer and closer—you'd better turn the page, tilt the book, shake it, and then slam it shut.
An interactive boardbook for toddlers.
Translated by Linda Burgess
---

Description

Help! The wolf is coming!

In this interactive book, you need to follow the instructions to make sure the
wolf won't get you.

He's a bit scary—maybe he wants to eat us! But here's an idea: if we hold the book on a lean, maybe the wolf will slip and fall… And if he holds onto a branch, maybe we can shake the book so he drops off… Or maybe it's enough to turn the page to make him disappear… Let's try!

Bye-bye wolf!

---

Book Details

Country of Origin
France
Reader Age
2-5 year
Book Size
24 × 18.4 cm
24 × 18.4 cm
ISBN
HelpTheWolfisComing
9781927271841

---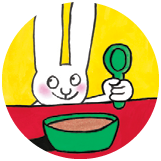 Subscribe to our newsletter/s
Hear from us about new books, guest recommendations, behind-the-scenes and competitions.