A riotously colourful piece of imagination for children
A Book is a Book
A Book is a Book is a beautifully produced, small-format jacketed hardback with whimsical yet humorous illustrations  and words, that perfectly  define everything that is good about a book.
Written by Jenny Bornholdt and illustrated by Sarah Wilkins.
Available as an ebook.
---

Description

This book asks 'what is a book?' It celebrates books and reading. Although 'told' from a child's view, it captures the value and magic of books felt by all voracious readers, and is a perfect gift for book-lovers of all ages.

A book is to read.
A book belongs in a library, on a bookshelf, in a bookshop, in your house.
A story belongs wherever a story belongs.
If it's Sunday and raining, a book is the perfect thing. Even a small book, because boredom can be very big.
You can read a book while you walk, but you have to be careful not to bump into things.

Jenny Bornholdt is an acclaimed poet. In 2005–06 she was the NZ Poet Laureate and she received the 2003 Arts Foundation of New Zealand Laureate Award. She lives in Wellington, New Zealand.

Sarah Wilkins has worked as an illustrator in Australia, USA, New Zealand and France. She won the LIANZA Russell Clark Award for Illustration in 2003.

---

Book Details

Country of Origin
New Zealand
Reader Age
2-5 year, 5-7 year, 6-8 year
Book Size
N/A
18 × 20 cm
ISBN
BookisaBook
9781877579929

---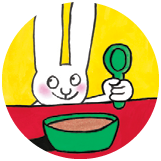 Subscribe to our newsletter/s
Hear from us about new books, guest recommendations, behind-the-scenes and competitions.