Louise Cambau, South Ken Kids Festival curator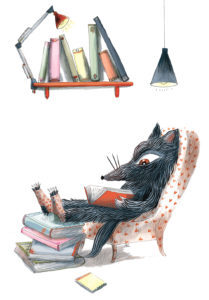 I have been curating the South Ken Kids Festival for the past 6 years. This is a Franco-British children's book festival organised yearly at the Institut Français in London, celebrating 25 years in 2022, under Sir Quentin Blake's patronage. Amongst other things, the Institut organises literary events throughout the year and funds upcoming translations from French to English through our yearly Burgess Programme.
As curator of the South Ken Kids Festival, it's always a wonderful but frustrating task to select the French guests invited to every year's edition. Indeed, so few French authors and illustrators are translated into English! Here's hoping for more publishers taking the leap towards translated picture books.
Here are 10 of my favourites from past (and future?) editions.
---
Kitty Crowther Poka and Mia at the Bottom of the Garden (Tate Publishing, 2015)
Kitty's illustrations are so endearing, with a depth not often seen in children's books. Her series about these two insects, Poka and Mia, who get in all sorts of adventures, is a lovely way for parents to discuss deep questions with their children.
Gaetan Dorémus, My Baby Crocodile (Enchanted Lion, 2016)
The humour in this book floored me, as well as the very clever construction. It's the story of a medieval knight, wearing armour with a pointed helmet, making him look like a baby from his species to a short-sighted big crocodile. They adopt each other and experience many fun times but realise after a while that their paths have to part as they may be a danger to each other. The story is told from each character's point of view, with a happy end. The illustrations are lively, simple and humorous.
François Place, The Last Giants (David R. Godine Publisher, 1993)
Sadly out of print, this is one of the most beautiful tales I've read. Written and illustrated by François Place, his stunningly detailed watercolours serve the story of an explorer discovering the last seven giants from a near extinct tribe. Their connection to nature and gentleness is inspiring. François is back at the festival this year with a wonderful workshop on his latest book in French: Kings and Queens of Babel.
Thomas Baas, The Flight of Mr Finch (Tate Publishing, 2018)
A charming picture book in tones of green and red, it tells the story of Mr Finch, a quiet and discreet man, who lives with his best friend, a small red bird. All is well until the bird flies away, forcing Mr Finch to go on an adventure to find him. A lovely tale on the benefits of getting out of your comfort zone, to find yourself and happiness.
Magali Le Huche, Nowhere Girl (Nobrow, 2022)
Slightly out of the picture book category, although all of Magali Le Huche's books come highly recommended for her fresh vision and humour. This graphic novel, for older children and adults alike, tells the story of Magali's school phobia at the age of 11 in the 1990s. This very dark and solitary time is eased and eventually ended by the discovery of The Beatles and their music, which provides great solace to the pre-teen. Beautifully evoked with the use of one colour per Beatle and contrasting with a black and white background, this is a story of the healing power of music, and so much more.
Clotilde Perrin is a fabulous storyteller, through the use of intricate and beautiful cut out books. This one tickles me for its inventiveness. The author gathers all occurrences of the three main villains in fairy tales: the wolf, the ogre and the witch, and paints a complete picture of their misdeeds. The many flaps and surprising ways to discover hidden characters make for a wonderfully entertaining read. Translated by superstar Daniel Hahn, the crafty texts accompany the fun cut-outs beautifully.
Claude Ponti, My Valley (Archipelago Books, 2017)
A bit of a 'marmite' author in France, Claude Ponti plays with language and illustrations with wonderful ease. I particularly enjoy his love of nonsense and absurd humour – and have done since I was a child! My Valley tells the story of a secret and enchanted world inhabited by tiny creatures, enriched with detailed maps and beautiful landscapes.
Barroux, Welcome (Harper Collins, 2016)
Barroux's books always hide a deep-meaning message behind light and humorous stories. His unusual and lovely illustrations tell the story of Polar Bear and his friends who, swept away from their land, must find a new land to inhabit. A very current tale on the theme of kindness and cooperation.
Delphine Perret, A Bear Named Bjorn (Gecko Press, 2020)
A collection of short stories around the kind bear named Bjorn. He and his friends live in the forest and get up to all sorts of mischief, making the reader contemplate our relationship to nature. The adventures are often funny, and Delphine Perret masters subtle and clever humour like no one else.
Beatrice Alemagna, On a Magical Do-Nothing Day (Thames Hudson, 2018)
Beatrice Alemagna is a true artist; her books are both beautiful and playful, and hugely original. This is a tale of a rainy day and a child being 'made' to play outside by their mother instead of playing video games, begrudgingly—at first—finding absolute joy in splashing in puddles and hanging from trees. I think every child can relate to this one! Beatrice is also back for the 2022 edition of the festival.