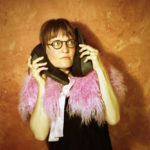 Clotilde Perrin is an illustrator and author living in Strasbourg, France. A graduate of the prestigious School of Decorative Arts in Strasbourg, she has published over 30 books and is known for her intricate interactive lift-the-flaps books including the international bestseller Inside the Villains.
We asked her to tell us more about her new release, Gotcha!
Why do you return to fairy tales and scary things in your books, and why do you think children also enjoy them?
These stories deal with the really difficult things in life but in a symbolic way. They warn and can even give answers. That's why I often feature them in my picture books. Fairy tales are almost universally known, so I let myself to have fun with them. In Gotcha!, I chose a house from The Three Little Pigs – the brick one, of course. We know this is the most solid one and that it usually protects anyone hiding inside!
I have always read fairy tales and still do. I enjoy the original texts (sometimes much longer than you think) with their strong symbolism that can be deciphered by adults if they want to. I think they're important and educational, even in today's world.
Children are living in anxiety-inducing times: Covid, wars, attacks, climate change, the environment … Hiding them from all of this will not protect them. They have to face their fears, and I think we can help them do this by giving them maximum confidence in themselves. You have to wake up to fight your demons. Reading scary stories allows you to try things out and to tame your anxiety.
Some parents don't tend to read fairy tales to their children—supposedly they are too terrifying. But these adults are the ones who have a problem with fear, not their children.
When I was a child, I was fascinated by some of the monsters drawn by Étienne Delessert. They made me feel uncomfortable, but I kept going back to them. I tried to tame them on my own, to tell myself: I am stronger than them, no, really I am!
Children have an appetite for monsters and anything that pries into their fears. The etymology of the word monster is relevant – it comes from the Latin monere: to warn.
How did you choose which fairy tale houses to feature in Gotcha?  
The brick house, from The Three Little Pigs, is the ultimate for providing protection. It's impossible to destroy. The witch's house in Hansel and Gretel offers less protection, but because the witch is dying in the oven, there is nothing worry about. And I don't know many children who wouldn't like to have a gingerbread house, filled with sweets! The last hideout, the castle, is a beautiful symbol of a strong and impregnable place.
How do you balance funny and frightening in your illustrations of monsters?
I like to mix fear with humour. When I'm talking to little kids, it can be slightly in bad taste. I freak them out a bit. Of course, you can't lock them into terror, so humour is a way out. My monsters are all a bit foolish, stupid and primitive. I say to my readers, "You are much more intelligent than them, have a laugh at this brute who wants to scare you. Look, it's farting! Look at its teeth, it needs braces! It doesn't look very agile!"
How did you approach the flaps and engineering for this book compared to previous ones?
Increasingly I want to tell a story through making clever use of the flaps. I'm a bit of an explorer when it comes to inventing new books; I let myself be surprised.
I'm always trying to invent new formats. In this book, you can go right inside houses.
It was a dream of mine when I was a child to be able to discover new places and imagine myself there. I hope the children who turn the pages and flaps in my book will have the same feeling.
What is your favourite book on the child's bookshelf pictured in Gotcha?
The Edgar Allan Poe stories. I love fantasy, which is probably why I love fairy tales.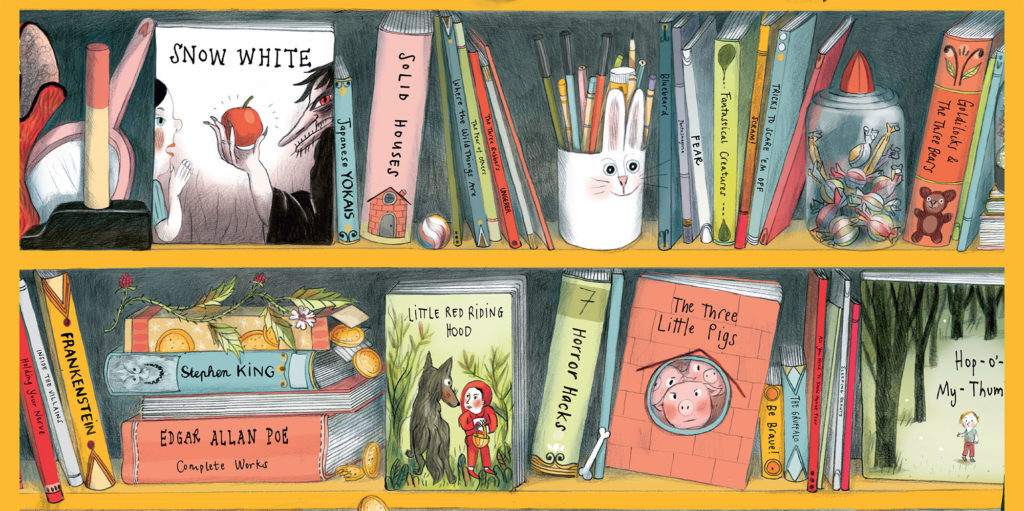 ---
Gotcha! is available from our website and all good bookstores.