We asked Taiwanese author Charlene Lai, an expert in international children's books, to write a list of books she recommends. She chose to share her favourite books about pigs! (because of the year we are in, of course).
At Gecko Press, we also like pigs, and New Zealand illustrator David Elliot does too. We are celebrating this month because his book Oink! (Gecko Press 2019) has been released to the United States where it has already received two starred reviews and a lovely review in the New York Times praising Oink's 'frisky humor'. Elliot's pig is a quiet, unassuming animal, who finds a time-honoured way to get all the uninvited animals out of her bath.
It is for me a book about the different ways that quiet characters can counter louder, more insistent ones with worse manners. As in every good picture book, it offers a lesson in humanity.
It also shows the ways you can use your tone of voice to show surprise, crossness, pleasure, indignation. (You can try this yourselves by saying oink in lots of different ways – or you can have more fun by reading the book where you also get to try out hee haws, maas and moos!)


There is something very funny and endearing about a pig, and our discussions in the office resulting from reading Charlene's collection of pig stories reveal that they are much misunderstood. They are of course intelligent and very clean animals when not housed in cages; I have a friend who loved her pet pig for its friendliness, curiosity and warm personality, and we spent many hours talking to her and observing the odd way her hair grew, so sparse compared to a sheep or a horse!
I encourage you to find the following pig books at your library – we cannot show a lot of images because of copyright, but a little googling has me wanting to know much more about these great illustrators – and to look with new eyes at pigs.
There are of course many more books about pigs – do send us your favourites to add to the list.
Publisher, Julia Marshall
Pigs in books By Charlene Lai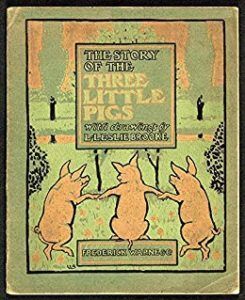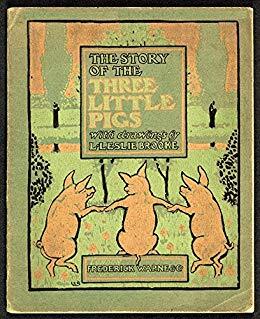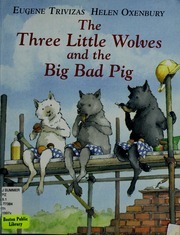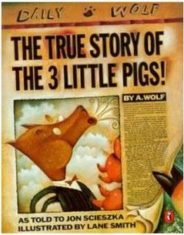 A conversation about pig books must of course start with The Three Little Pigs—always among the bestsellers and an obvious choice for parodies of fairy tales. Many picture book artists have adapted this story: you can read versions by Nick Sharratt and Stephen Tucker, Paul Galdone, James Marshall, Steven Kellogg, Barry Moser, Jean Clavier, Steven Guarnaccia, and David Wiesner. The True Story of Three Little Pigs by Jon Sciezka and Lane Smith. And The Three Little Wolves and the Big Bad Pig by Helen Oxenbury is a classic.
For contemporary stories, let's consider the star, Olivia, the creation of Ian Falconer. Falconer was a theatre set designer, who collaborated with artist David Hockney for a production of Tristan and Isolde in Los Angeles and has worked as set co-designer and costume designer for opera, plays, and ballet performances. The first Olivia was published in 2000 and received a Caldecott Honor Award. Eight titles followed, along with reading-level supplemental stories and books based on the TV series. Falconer became one of the very first picture book artists to develop a single character.
Olivia is a young pig with broad interests. She loves reading, is full of imagination, bold, an eldest child. Energetic and curious, she wears everyone out, including herself. In this series Olivia is seen under a spotlight and when the page turns, we see Olivia as a star on the stage. Olivia is very energetic and curious. She cannot decide what to wear every day and insists on proper outfits for different occasions.
But as in the best picture books, Falconer layers his stories with information. The art of Degas, Pollock and Callas feature in the first book when Olivia visits a museum; Eleanor Roosevelt appears in the second; Martha Graham in the third. Hidden messages and layers abound, and the vocabulary too is carefully chosen. These books nurture young readers, encourage them to develop their confidence, self-esteem, different perspectives, and expectations of themselves.
Falconer uses charcoal and gauche to create the illustrations. He admired the work of Dr Seuss and minimalism and began using black and white with dots of red to establish Olivia as a character. By the time of Olivia goes to Venice he had started also using photos. He created individual images for the series and later on used them separately for other albums.
Another series I highly recommend is Huff and Puff by Claudia Rueda (Harry N. Abrams). These books are a way to explore friendship, respect, and getting along with those outside our family.
Holly Hobbie's Toot and Puddle are very different but the best of friends. The pair live in Woodcock Pocket. Toot has learned about many places from his globe so one day decides to set off on a trip, but Puddle stays home. Toot mails home postcards from the places he visits, so we follow his journeys to exotic places alongside Puddle's days at home. (In later books, they send emails.)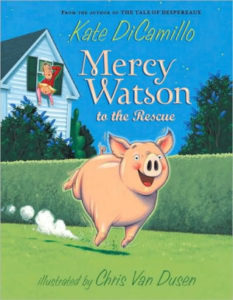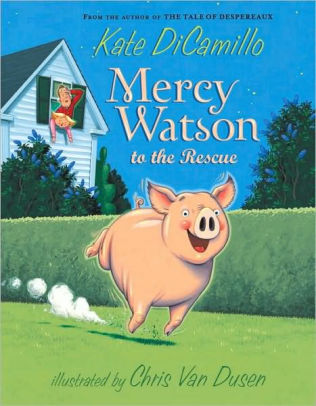 For more mature readers, Kate DiCamillo's Mercy Watson (Penguin Random House) is a good pick (also a series but all can be read alone). And Colin McNaughton has a very funny series about Preston pig outsmarting the wolf in Oops!, Shh!, Goal!, Oomph (Harper Collins).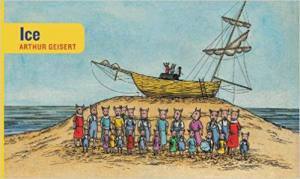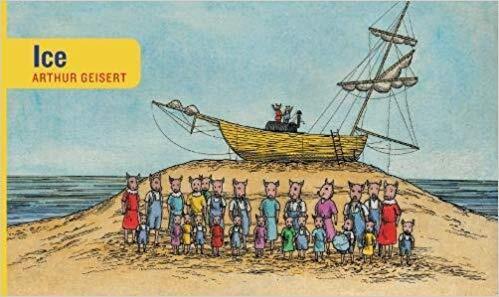 Arthur Geisert is a very special picture book artist. Born in Los Angeles, he had never been to the countryside and didn't know what pigs looked like until he was at college. He now lives in a hundred-year-old barn in Iowa State, USA, where he makes an etching for each individual image and hand prints them for his books. He explains his process in The Etcher's Studio (Houghton Mifflin). He only creates books about pigs—no other animals—and has produced hundreds of pigs in his books: The Giant Seed, River Town, Desert Town, Haystack, Ice, Oops, Mystery, Lights Out, Hogwash, Country Road ABC, and Thunderstorm.
Pigs can't fly. They can't run fast. But they make life peaceful and merry. I hope everyone can enjoy some wonderful pig books in this year of the pig.