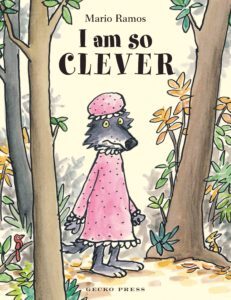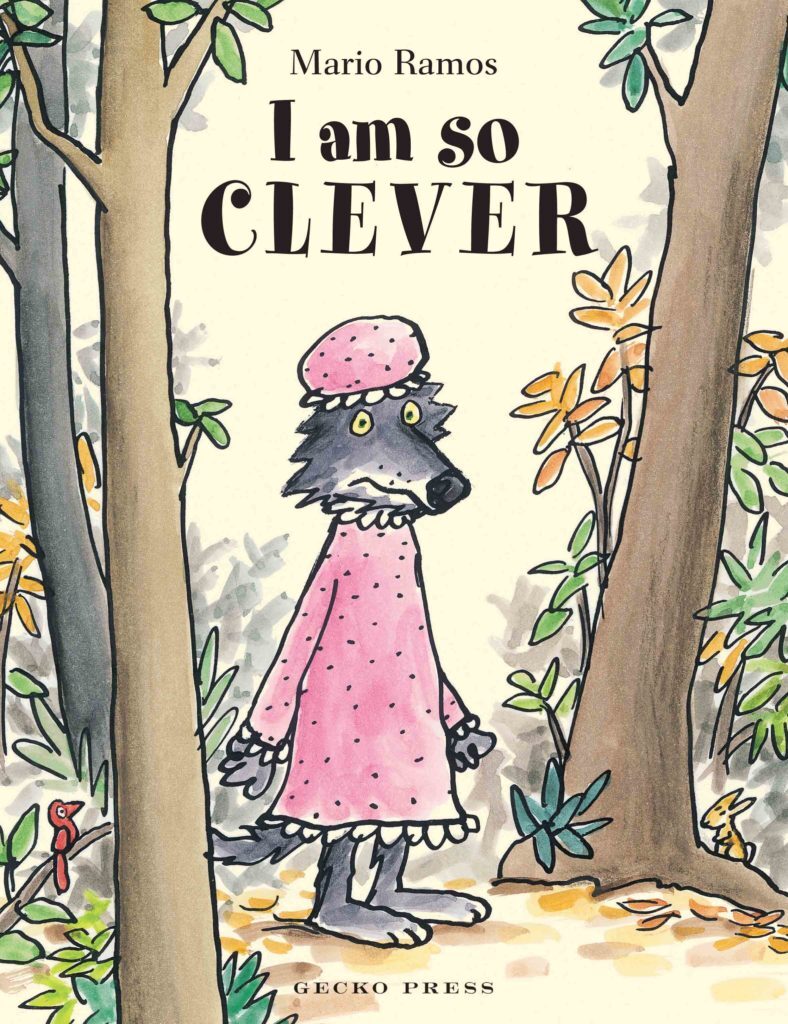 I Am So Clever has received a starred review from Booklist.
Little Red Riding Hood is on her way to Grandma's house when she encounters an especially wily wolf, who warns her of the dangers in the woods—like sharks. And we're off, through slightly unfamiliar terrain as poor, bumbling Wolf gets trapped outdoors wearing Grandma's nightgown, which results in case after case of mistaken identity. First, there's the huntsman, who's lost his glasses, then Seven Dwarfs sporting swim trunks, on their way to the creek—none of them recognize him for the terrifying creature he truly is.
Wolf struggles to get out of the clinging nightie to no avail. When Little Red eventually reappears, the starving wolf leaps! And Red bursts out laughing, complimenting Grandma on her marvelous mask. The final scene shows the poor, defeated wolf, who has tripped on the hem of the nightie and broken all of his teeth, being helped out of the pesky garment by Little Red. The text is sprinkled with quaint vocabulary, and the bright, bold illustrations add plenty of humor. The one possibly frightening scene—where the wolf actually attacks—is somewhat mitigated due to his fuzzy pink nightgown. The Big Bad Wolf really gets his comeuppance in this delightful and fresh retelling, a worthy addition to the fractured fairy tale canon.
— Kathleen McBroom