Eriksson's illustrations convey intelligence, sensitivity and amusement in the young heroine.
Watch Out for the Crocodile
With a bit of imagination, anything can become an adventure.
Translated by Julia Marshall
Available as an ebook wherever you buy your ebooks
---

Description

A delightful picture book about a father and daughter's trip into the wilderness, and how children can help parents see the world in a different way.

---

Book Details

Country of Origin
Sweden
Reader Age
5-7 year
Book Size
19.5 × 26 cm
19.5 × 26 cm
19.5 × 26 cm
ISBN
WatchOutfortheCrocodile
9781877579899
9781877579905

---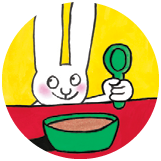 Subscribe to our newsletter/s
Hear from us about new books, guest recommendations, behind-the-scenes and competitions.