Curious, compelling tales of animal anger, luminously illustrated.
The Day No One Was Angry
---

Description

The Day No One Was Angry is a funny, thoughtful look at anger. In 12 short chapters, we see different animals in various states of angriness. Some try to understand their anger, some try to tame it, while others let their anger overwhelm them. These stories are funny and wry, but also offer a gently profound reflection of the nature of human emotions.

Marc Boutavant's delicate, stunning full colour illustrations put the reader in the heart of the forest, surrounded by endearingly grumpy animals.

This book is a beautifully produced hardback which would make the perfect gift for older children as well as adults.

---

Book Details

Country of Origin
The Netherlands
Reader Age
11-14 year, 8-12 year
Book Size
27 × 18 cm
27 × 18 cm
27 × 18 cm
ISBN
DayNoOnewasAngry
9781927271605
9781927271575

---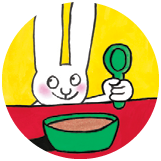 Subscribe to our newsletter/s
Hear from us about new books, guest recommendations, behind-the-scenes and competitions.