... will have children hysterical with laughter, and parents happy to reread it until it falls apart.
I Am So Handsome
In his pictures and texts Ramos tells of fear, power, otherness and tenderness.
Written by Mario Ramos.
---

Description

Then the wolf met the three little pigs.
'Hey, little bacon bits! Still skipping about in the woods trying to lose weight? Tell me, little butterballs, who's  the handsomest of all?' demanded the wolf.

In I am So Handsome, the incorrigible wolf saunters through the forest asking everyone he meets – including Snow White, and the three little pigs: 'Tell me, who is the handsomest of all?' He meets the little dragon: 'Tell me, you ridiculous little gherkin, who's the handsomest of all?' he says. The wolf is not so handsome when the little dragon has shown him a trick his dad taught him.

---

Book Details

Country of Origin
Belgium
Reader Age
2-5 year, 5-7 year
Book Size
24.2 × 17 cm
24.2 × 17 cm
24.2 × 17 cm
ISBN
IamsoHandsome
9780958272094
9780958278782

---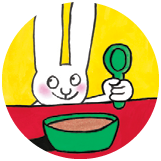 Subscribe to our newsletter/s
Hear from us about new books, guest recommendations, behind-the-scenes and competitions.