An on-target picture of the bluster of boyhood.
Anton and the Battle
Little boys and their (imaginary) toys make for a very real story of rivalry and friendship…
Kirkus Reviews (US), March 2013
---

Description

Anton and his friend Luke fight an epic battle to be declared the strongest—but will they be outdone by a puppy?

---

Book Details

Country of Origin
Germany
Reader Age
2-5 year
Book Size
24.5 × 25 cm
24.5 × 25 cm
24.5 × 25 cm
ISBN
AntonandtheBattle
9781877579264
9781877579257

---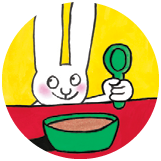 Subscribe to our newsletter/s
Hear from us about new books, guest recommendations, behind-the-scenes and competitions.