by Giana Torrez, Library Informational Services Specialist, El Paso Public Library, Texas, USA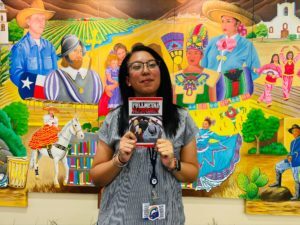 We asked Giana Torrez, who we know through TikTok, for a list of books she likes to recommend that feature disabled characters—a broad topic, of course, as shown by her list that includes autistic, dyslexic and physically disabled main characters. The linking thread is perhaps that these characters are living their lives and part of the narrative, not exceptions singled out for special treatment.
Queens of Geek by Jen Wilde
YA novel featuring vlogger Charlie and Taylor, who is autistic, attending a fan convention in LA.
This book is relatable because what teen doesn't want to fit in or have their crush like them back? It appeals, of course, to people who are into "geeky" things like cons/fandoms, which I'm guilty of, and it touches on subjects like being LGBT+ and being "different", with a main character who has anxiety and autism. It represents these topics as normal, instead of something to be ashamed of.
Loveboat Reunion by Abigail Hing Wen
A YA romance novel set in Taipei with friends Sophia and Xavier.
This is the sequel to the bestseller Loveboat, Taipei. The characters develop more in this book as they tackle hard topics such as family issues and dyslexia but the story still has lighthearted moments.
We're All Wonders by R.J. Palacio
A picture book for younger readers based on Wonder, the story of Auggie, an ordinary boy born with an extraordinary face.
This is the picture book version of Wonder, which is a great book. Told from Auggie's perspective, the message is simplified so younger children can understand that although Auggie may look different, he's still an ordinary child. It's a great book for children to learn how to empathize with someone who is different from them, no matter what that difference is.
Ghosts by Raina Telgemeier
A middle-grade graphic novel in which two sisters move to a new town where they learn there are ghosts.
This is a cute story about Cat and her younger sister, Maya, who was born with cystic fibrosis. The sisters move to a new city that Cat is less than enthusiastic about. I personally like it because it has ghosts and celebrates not only Halloween but also Día de los Muertos.
Fullmetal Alchemist by Hiromu Arakawa
A manga series with 27 volumes in which an alchemical ritual gone wrong results in Edward Elric losing his arm and his leg, and his brother Alphonse becoming nothing but a soul in a suit of armor.
Fullmetal Alchemist is a series that is near and dear to my heart; it's been made into two different anime and a live action movie. It does cover heavy topics. It follows the protagonists Edward and Alphonse Elric, brothers trying to find the Philosopher's Stone so they can get their bodies back (Ed is missing an arm and a leg and Al is a suit of armor). They uncover so much more than they expected. TL;DR: a rollercoaster of emotions.
---
This book list was created for the release of Duck's Backyard by Ulrich Hub, illustrated by Jörg Mühle, available from our website and all good bookstores. A very funny and philosophical illustrated chapter book by a bestselling author/illustrator pair, in which a duck with a limp takes a blind hen on a goose chase, as they search for adventure and answers to some big questions.