This month's book list has been put together by Monty Masseurs to celebrate the launch of Jonathan King's first graphic novel for children, The Inkberg Enigma.
Monty is a selector at Wellington City Libraries with special responsibility for children's, young adult and adult comics and graphic novels, but also eBooks and digital audiobooks.
He also runs the biannual comics event, ComicFest in Wellington with help from other creative, smart librarians, the generosity of local cartoonists, and the assistance of our irreplaceable National Library.
Here is his list of great graphic novels for children:
---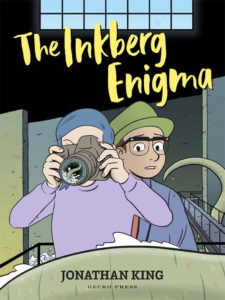 The Inkberg Enigma by Jonathan King
Every avid reader has to brave the world at large eventually, leaving behind those fictionalised pages and aspirations, but what if leaving your room and your beloved books resulted in the opposite? What if those books became a portal to an adventure?
Miro lives in the charming seaside town of Aurora, home of the mysterious hooded 'Order of the sea', tycoon William Danforth and the Danforth castle, and a famed ill-fated trip to Antarctica. By the time he's met free-spirited photographer Zia, and discovered ancient clues it's too late for us to return to the comfort of mere fiction either – we too are caught in an Inkberg Enigma!
King knows the best adventures occur just outside our imaginations, masterfully handling adventurous plot turns, imparting us deep in a place like New Zealand. Lushly illustrated and full of fun, it's a grand comic for children and adults alike.
---
Snapdragon by Kat Leyh
Ghosts come in many forms – they're sacred, they're forgotten and remembered, they're angry or lost – sometimes they're real.
Fearless, independent Snapdragon or Snaps for short, becomes a believer in ghosts, after she discovers witches exist (kind of) when she encounters Jack, seller of roadkill skeletons online. (Whilst this might sound overly scary for a children's comic, Snapdragon walks that line delicately – the scares are genuine, but appropriate.) As Snap discovers her own abilities, it turns out that family and friends have secrets, and revelations of their own to work through requiring Snaps brave help.
With a complex, multi-layered plot, diverse, courageous characters, energetic and characterful drawings, Snapdragon is inspired and moving and a complete success.
---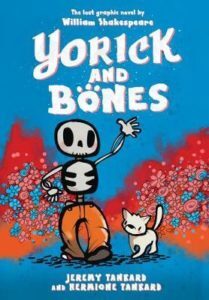 Yorick and Bones by Jeremy Tankard and Hermione Tankard
Yorick famously has no(body), but what if that famous fool and Shakespearean skeleton were reanimated unknowingly one morning deep beneath the ground and called, 'Come by this way, O hope and free my bones!' and he was freed from his 'earthen jail,' by a jaunty dog?
This is the very original concept for comic Yorick and Bones, drawn by father, Jeremy Tankard and written in truly inspired Iambic pentameter by 15-year-old daughter, Hermione.  Yorick and the canine, Bones then explore the world we know, each as innocent as the other, searching for a companion and some meaningful purpose. The sophisticated but enjoyable wordplay is offset with funny interludes involving the search for pants, retrieval of femurs and sunny-day revelry.
Yorick and Bones is a warm, gentle and intelligent read that should be satisfying for both children and adults, or any reader interested in a soulful search for identity and ideas of friendship accompanied by life-changing spring idles.
---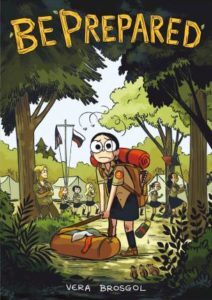 Be Prepared by Vera Brosgol
Vera comes from a newly immigrated Russian orthodox family, and has never been to summer camp before, until she must attend Russian camp with no electricity, running water, working toilets… or friends.
Summer camp is one form of the American rites of passage we know at least in film and literature, but Vera Brosgol makes this familiar experience new again with honest story-telling, hard-earned revelation and bravura two-tone illustration.
Culture clashes are a main theme, with Vera not feeling at home either with new American friends (what about that sleepover?) or her new Russian-American ones, but maybe a moonlit encounter with a moose, one seriously good friend, and a fresh sense of purpose can change everything?
---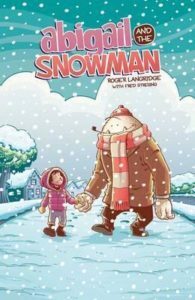 Abigail and the Snowman by Roger Langridge
A Roger Langridge comic is rich in the fullest sense; adults will find joy in the filmic wordplay, the sense of the absurd and unpredictable, profound nostalgia in the recognition of the influence of the golden age of comics, and children can enjoy everything else.
Everything else, however, includes the most endearing illustrations, slap-stick comedy, evocative family drama and an invisible Yeti and Abigail on an adventure deserving of a sequel.
Abigail lives in Shipton-on-Sea with her unemployed father. Shipton-on-Sea is a small town where little happens until she discovers a talking, suited Yeti who can, 'turn invisible by clouding men's minds.' Only children can see him, and he's running from bumbling government baddies in black suits, a bounty hunter with a taste for capturing cryptids. The resulting story has familiar moments but through the fully realised fabric of this graphic novel is the creative potential in comics to impart genuine wonder.
---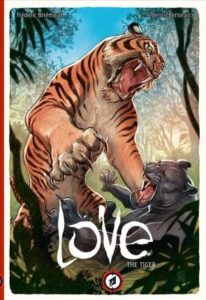 Love: The Tiger by Frédéric Brrémaud and Federico Bertolucci
The award-winning wordless Love series from Italian cartoonists focuses, 'on a different day in the life of a different wild animal across different natural habitats,' including a tiger, lion, fox and dinosaur but each individual graphic novel is united by the potential of pictures to visually propel story, for action to drive plot and for plot to unexpectedly culminate in unforgettable endings.
Love: The Tiger, tells the story of a roaming, hungry tiger on the hunt for a solitary Tapir over the course of a single chaotic day in the jungle. The central premise of the Love series is that animals neither hate nor love each other, that, 'Love and hate are part of a natural whole. A supreme balance many consider to be universal or divine. An elemental love.'  It's this unconventional idea of love that drives each animal's battle for survival towards each of their satisfying conclusions. Highly recommended for adventurous readers!
---
For more great graphic novel recommendations and book suggestions in general from Monty and his fellow fantastic librarians, follow Wellington City Libraries on Twitter, Facebook, Instagram and YouTube.
The Inkberg Enigma is available now from wherever you buy or consume your books and on our website.
Want to hear more from Gecko Press? Every month we send out a newsletter with all of our latest blog articles, activity sheets, and sometimes a competition too! Sign up to our mailing list here.