This month's book list has been collated by Bob Lingle from Off the Beaten Path Bookstore. The store is located in the Village of Lakewood, New York, with a focus on fostering empathy, to curate titles for the community that promote understanding, diversity, and creativity.
Find Off the Beaten Path Bookstore on Instagram, Facebook and Twitter.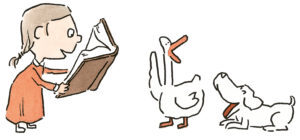 ---
Our store has a specific focus on fostering empathy. So I've decided to choose empathy as the theme for my list.
If You Come to Earth written and illustrated by Sophie Blackall
How would you describe every aspect of Earth to someone who doesn't live here? If You Come to Earth offers a child's perspective on this blue ball we all inhabit together.
The Someone New by Jill Twiss, illustrated by EG Keller
The unknown can be scary, even when the unknown is a potential new friend. The Someone New expresses the importance of being open and understanding when confronted with unexpected change.
A Kids Book About Racism by Jelani Memory
A Kids Book About Racism uses very clear language while discussing a difficult topic, and offers conversation prompts for kids and adults to keep talking.
Just Ask!: Be Different, Be Brave, Be You by Sonia Sotomayor, illustrated by Rafael López
It's okay to be different, and each of our differences bring something beneficial to a community.
Welcome to Bobville: City of Bobs by Jonah Winter, illustrated by Bob Staake
As a fellow Bob, I was drawn to this book. Welcome to Bobville encourages you to embrace your individuality and find happiness outside of your comfort zone.
---
Would you like to hear more from Gecko Press? Every month we send out a newsletter with all of our latest blog articles, activity sheets, and sometimes a competition too! Sign up to our mailing list here.