With the approach of Father's Day and this month's release of Seahorses Are Sold Out, featuring the best dad-hair Gecko Press has published, we asked Helen Wadsworth from Dorothy Butler Children's Bookshop in Auckland to tell us what books about single fathers she enjoys recommending to customers.
---
Picture books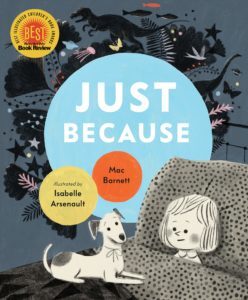 Just Because by Mac Barnett and Isabelle Arsenault
It's bedtime and the "why-child" in this book is tucked up in bed in a nearly dark bedroom. Dad can be seen peering around the door from the hallway light—clearly about to say goodnight from a distance. But not so soon! The "why-child" has a question. "Why is the ocean blue?" On the next page, Dad's answer and the blue and grey illustrations surprise and enthral. "Every night when you go to sleep, the fish take out guitars. They sing sad songs and cry blue tears." Turn the page and Dad has entered the room as the next inevitable question arrives "What is the rain?" The question and response pattern continues—with big important questions and ever more imaginative answers. By the end Dad is sitting on the bed. The last question is "Why do we have to sleep?" I love the questions in this book and Dad's beautifully wacky answers. Arsenault's illustrations tell the story perfectly.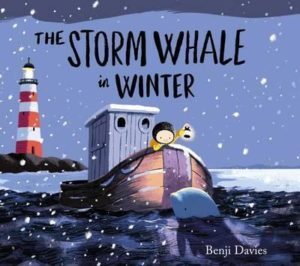 The Storm Whale in Winter by Benji Davies
Noi and his dad, the fisherman, live a simple life by the sea. Benji Davies' pictures and words capture the warmth between father and son but also the sense of loneliness of a small boy when his father goes off fishing. In this sequel to The Storm Whale, Noi is missing his friend the whale and wondering if he'll ever come back. One night Noi's dad doesn't come back from a fishing trip so Noi bravely heads off in the dark, ice and snow to find him. The Storm Whale and his family know that Noi is in danger and manage to steer him to safety—and his dad gets rescued by fisherman. This is a story involving danger and bravery but, at its core, the book celebrates the love between a child and his father and the importance of friendship.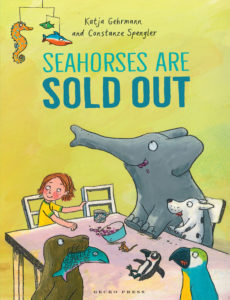 Seahorses Are Sold Out by Katja Gehrmann and Constanze Spengler
Dad agrees to Mika's request for a pet if … "you play with it very quietly and don't bother me until I finish my work". Mika buys a mouse but, when it disappears, decides a puppy is needed to find it, and when the puppy pees in the bathroom, a seal is required to make sure everyone uses the toilet properly. Before long Mika (with the collaboration of the delighted pet store owner) has a menagerie, although disappointingly, the seahorses are sold out. Mika's father is oblivious until he finally finishes his work and gets quite a shock. A curiously cheeky and very funny book featuring an enterprising young person.
Chapter books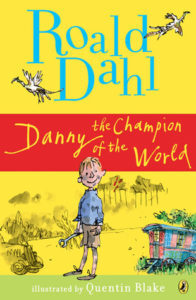 Danny the Champion of the World by Roald Dahl
This is my favourite Roald Dahl. Danny and his dad are scraping by living in their caravan, pumping petrol and working on people's cars. They have a marvellous time together, flying kites, making fire balloons and telling stories. That is, until Danny finds out his dad's big secret—Danny's dad is a poacher! This changes everything. In usual Roald Dahl style, the small people are pitted against the nasty powerful people and despite a few setbacks they eventually triumph. The scene where the pheasants, tucked away in the bottom of Mrs Clipstone's pram, wake up from their sleeping-pill-induced sleep and start flying out, causing consternation for Mrs Clipstone and her baby, is hilarious and unforgettable.   |  Ages 6-10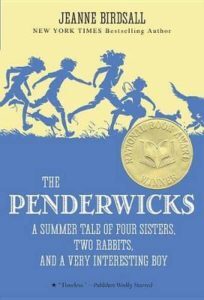 The Penderwicks by Jeanne Birdsall
This award-winning book was first published in 2005. It's a lovely tale of fun and adventure on summer holiday. The four Penderwick girls live with their father, who rents a cottage for the summer. The cottage turns out to be a big house on the grounds of a mansion. The grounds are huge and provide the perfect location for games, exploration and mishap. There they meet Jeffrey—an excellent companion in adventure—and his mother Mrs Tifton, who seems to disapprove of everything they do. This story is driven by the beautifully drawn characters and the family and friendship dynamics. It's an excellent read, and while it doesn't shy away from the fact that Mum is no longer around, this sadness doesn't take over the story.  |  Ages 8-12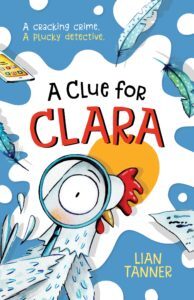 A Clue for Clara by Lian Tanner
Olive and her policeman dad are both missing her mum who has recently died. Then Clara the detective chicken comes into their lives. As they navigate their grief, Clara's persuasive ways have them solving a local crime together. This book is SO funny! The author gets it just right—the highly intelligent chicken who can understand everything that humans say, can text, and can do Morse Code and Semaphore, yet has a very definite chicken-view on the world. She's smart, she's determined, and she learns to be brave. And she helps Clara and her father come together as a team and remember that they still have each other.   |  Ages 8-12
---
Would you like to hear more from Gecko Press? Every month we send out a newsletter with all of our latest blog articles, activity sheets, and sometimes a competition too! Sign up to our mailing list here.