By Anna Hoek-Sims of UBS Otago, Emerging Bookseller of the Year 2023
Kia ora!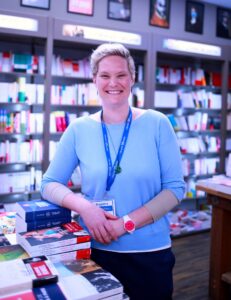 I've been an avid reader and a bookaholic from a very young age. I loved the stories Mum and I read together when I was little— we always had to read an extra story or chapter before I was tucked in.
I work at UBS Otago as the Retail Manager and Events Coordinator, and I've also been a Children's Specialist.
My favourite genres are fiction, crime, poetry, etymology, and quirky children's books. I love playing around with words, and try to write poetry in my spare time, when it's not dominated by badminton, my garden, or my cat!
We all love going on adventures, be it in different countries, our own backyard or in the amazing books in our local bookshops and libraries. Here's a list of some of my favourite adventure stories—I hope you enjoy them as much as I have.
Children of the Rush by James Russell,  7–10 years
A wonderful book that is historically accurate with its portrayal of the grim life miners led on the goldfields. Ata and Michael are fantastic characters, who lead you through the story with quick wit and suspenseful moments.
Written in a dyslexic-friendly font, Children of the Rush is a must read for all adventure seekers!
P.S. At the time of writing, Book 2 has just been released.
Kitty & the Moonlight Rescue by Paula Harrison, illustrated by Jenny Lovlie, 5–6 years+
I love cats, and what better book than one that has a superhero cat mum, and a new, learning-the-ropes supercat hero daughter on a mission!
Kitty is a mischievous character who grows in confidence, overcomes her fear of dark, windy nights, and proves she can be a superhero all by herself.
Detective Gordon: The First Case by Ulf Nilsson, illustrated by Gitte Spee, 5–6 years +
A crime has been committed against poor squirrel, and toad, a.k.a Detective Gordon, is ready to help! With stunning images on every page and beautiful prose, this search for the nut thief is full of twists, turns, and memorable moments.
I love how personable the characters are, and the clever way Nilsson delivers an important message.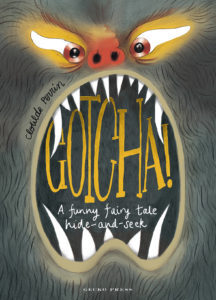 Gotcha! A funny fairy tale hide-and-seek by Clotilde Perrin, 4 years+
Clotilde Perrin is one of my favourite children's authors. This fairy-tale story is sweet and scary, with incredible lift-the-flap illustrations.
Explore Hansel and Gretel's gingerbread house, and the three little pigs' abode before being captured…or turn the table on the monsters!
Amari & The Night Brothers by B. B. Alston, 7–12 years
Aimed at older readers (8+), this book is a fantastical cross between Harry Potter and Nevermoor. B. B. Alston creates a wonderful adventure where Amari, maligned in the real world, fights to be accepted in the Bureau of Supernatural Affairs.
A heart-racing epic, with book 2 already out and a third on the way!
Olive of Groves & the Great Slurp of Time by Katrina Nannestad, illustrated by Lucia Masciullo, 6–9 years
Nannestad is a phenomenal children's author and Olive of Groves is a continuation of her prolific, witty writing. Her imaginative storytelling is sure to keep all readers delighted and laughing well beyond the end of the story!
Where the River Takes Us by Lesley Parr, 7–9 years
Set in Wales in the mid-1970s, Parr creates a ripe environment for discovery and adventure. Two orphaned brothers risk being separated when a reward offers them the chance to be together. A journey that pushes these characters to their limits.
---
This book list marks the release of our adventure chapter book To the Ice by Thomas Tidholm and Anna-Clara Tidholm, an epic story set in a polar wilderness that blurs realism and imagination.