To mark the release of Leilong's Too Long!—featuring our favourite oversized brontosaurus—we asked dinophiles Cody Phillips and On Lee Lau at Otago Museum to share a book list of some of their favourite books about dinosaurs for children of all ages.
Cody Phillips and On Lee Lau are part of the Otago Museum Collection Management Team for Natural Sciences; they are based in Dunedin and oversee one of New Zealand's major natural history collections. They share a love of fossils and work to digitise their knowledge of the museum's extensive collections for the public good.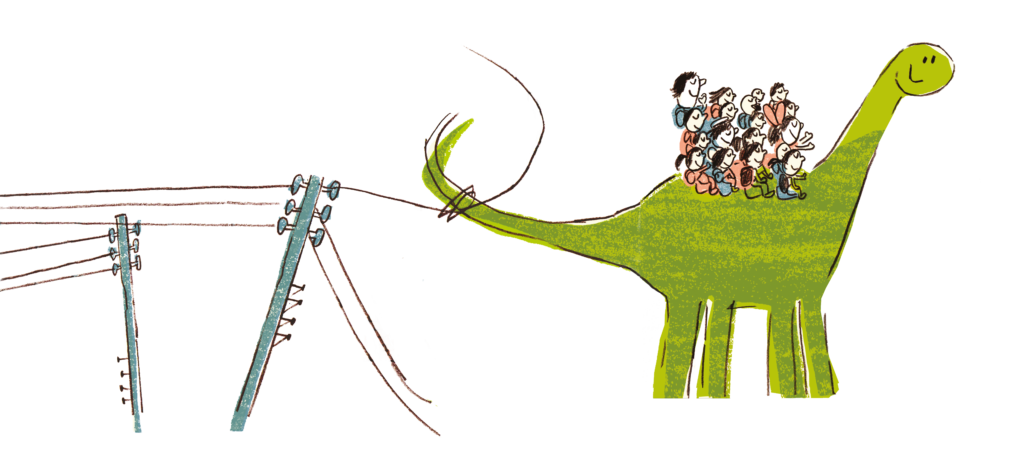 ---
There are so many excellent books about dinosaurs and fossils that it is very difficult to pick just a few to feature. Our scientific knowledge of extinct animals has increased exponentially as researchers continue to discover amazing fossils and use modern tools to gather insights about their lives.
We have endeavoured to find books that are not just about dinosaurs, but also about the other creatures they lived with, the people who have made the discoveries, and the challenges they faced. Children's books about dinosaurs that are more imaginative also play an important role in pulling in readers that are not already excited about dinosaurs, and can help us tackle topics such as belonging and having self-confidence using an easily identifiable character.
The Fossil Hunter: Dinosaurs, Evolution, and the Woman Whose Discoveries Changed the World by Shelley Emling
This book about the life of Mary Anning (who discovered the first dinosaur fossil as a child in the 1800s and continued to make ground-breaking contributions throughout her life in a time when women were excluded from science education) is an important story that we hope would engage and inspire everyone with an interest in fossils. A non-fiction book for teenage readers and up.
Titanosaur: Discovering the World's Largest Dinosaur by José Luis Carballido, Diego Pol, and Florencia Gigena
A picture book by the palaeontologists that discovered the largest known dinosaur in the world is a perfect addition to any reading list about dinosaurs. I remember hearing about the discovery of titanosaur fossils in news reports from 2016 and marvelling that this would become the new favourite dinosaur for so many people.
This illustrated picture book features an important concept, that we travel further back in time the deeper we dig. Facts about dinosaurs and other creatures that lived with them are dispersed throughout the book and makes this a book that children can keep coming back to to discover new layers of information.
Tiny T. Rex and the Impossible Hug by Jonathan Stutzman
This imaginative picture book allows us to imagine the difficulties that a small dinosaur with very short arms would have in learning how to hug. Both endearing and sweet, with some rather funny moments that children will love, this book also helps us think about what might make other people happy.
This fun and brightly illustrated book is written in rhyme, and has lots of sound and movement words that we can get up and move along with while we learn about the different dinosaurs. It has everyone's favourite dinosaurs in the mix, and the best part is that it also includes some of the not-so-usual species to thrill young dinosaur enthusiasts.
Other books on our personal lists but not featured above
The Complete Dinosaur by James O Farlow and Michael Brett-Surman
The Princeton Field Guide to Dinosaurs by Gregory S. Paul
Odyssey in Time: The Dinosaurs of North America by Dale A. Russell
Kaleidoscope of Dinosaurs and Prehistoric Life by Greer Stothers
Dinosaur Dance! by Sandra Boynton, published 2021
---