BY GLENYS BICHAN, SCHOOL LIBRARIES ASSOCIATION (SLANZA) President
I did something unthinkable when I was a kid at school…
We were doing a research topic on volcanoes and I did not have much access to research but I knew where to go to get it—our school library had a vertical file. This was an old tin filing cabinet with neat alphabetical folders in it which contained cuttings from newspapers and magazines on topical and educational issues.
It had a lovely folder all about volcanoes.
I stole it.
I put it in my school bag and repurposed it for my assignment. I got an equivalent of an excellence and 45 years later I still feel deeply guilty about my thievery from Darfield High School Library's vertical file—but I finally got better marks than Greta did!

Glenys in her library at  Cambridge High School
School Libraries are repositories of words, the printed word, the spoken word and the online word. We do words.
Our mandate is primarily to ensure our students in Aotearoa have access to books and online research that informs and inspires them. A school library is the place where ALL kids can acquire books. It has limited barriers of access and it is not dependent on caregivers' timetables or budgets.
School libraries ensure equitable access for all our students and we also know that kids that read outperform those that do not. We know academic results in schools with a well-resourced library are better than those without a school library. A study in the US proved that high poverty schools with a high functioning library far outperformed high poverty schools with no school library (Washington School Library Study, 2015).
We need to complete such studies in Aotearoa, but a report entitled "The Literacy Landscape in Aotearoa NZ" published in August this year is a scary start when it comes to our own issues.
The report shows the decline in Kiwi kids' reading performance in international surveys at the ages of both 9 (Year 5) and 15 (Year 11) over the past 20 years.
More than half of our 15-year-olds (52%) now agree that "I read only if I have to" (38% in 2009).
Even worse, 28% agree that "For me, reading is a waste of time" (18% in 2009).
I wonder if that decline can be overlaid with the decline in the provision and effective library services within schools…
Since school library funding is at the discretion of a school board, they determine if the school library is on the radar. As schools face budget restrictions, the school library is one of those services that can be seen to be discretionary. The other issue is that as school rolls increase a board can look longingly at the library space and see it as a potential for multiple classrooms.
I know that many school libraries are being hit with budget cuts, space reductions and, in some cases, the loss of all budgets and all space.
Yet we wonder why our literacy rate is falling and why 15-year-olds don't want to read anymore?
Is it because our school libraries are dull, have old and inadequate collections, and some of our librarians are only funded a few meagre hours a week that only allows them to maintain the space and not put passion into it so it can flourish?
What if…
Every school had a dedicated library space, with a budget that enabled meaningful library programs within a school and extensive, broad collections of books?
What if…
Every secondary school had enough budget to purchase picture books that supported units taught on human rights or climate change—that made them think in pictures as well as words?
What if…
Our students could snuggle on a bean bag to read a book that made them laugh, cry or become activated to be part of global change?
What if…
Our students could read books that grow their empathy so they become citizens that fight for equity, the environment and justice?
What if…
Our libraries were spaces for deliberate debate, conversation and communication to enhance understanding and broaden world views of our children and young people?
What if…
Every child had access to books that they can read chosen just for them, at their age, stage and need?
If those hypotheticals were fact, I think those earlier stats would flip.
We know that school libraries can transform. It is just we can't be those agents of transformation because our resourcing is taken from us by those who are too narrow to see the infinite benefits a school library gives to its students and the staff who work there.
Trevor Mallard said this at the reopening of our school library after the board and principal had shut it down in the early 2000s: "A school library is not a luxury, it is a necessity."
Do we still hold to that statement? Do we fight because we know school libraries can transform and we want to be part of the transformation for the children and youth of Aotearoa?
It was easy to steal a folder on volcanoes from a vertical file—no doubt they figured it out and constructed another one—but it is becoming much too easy to take from our tamariki.
The taonga of a school library is hard to get back. It is not a piece of paper to be slid into a file. It is a precious space that needs our protection, our care, our aroha and our strength to protect it or maybe it will be filed away forever, lost.
Find out more about the School Libraries Transform Campaign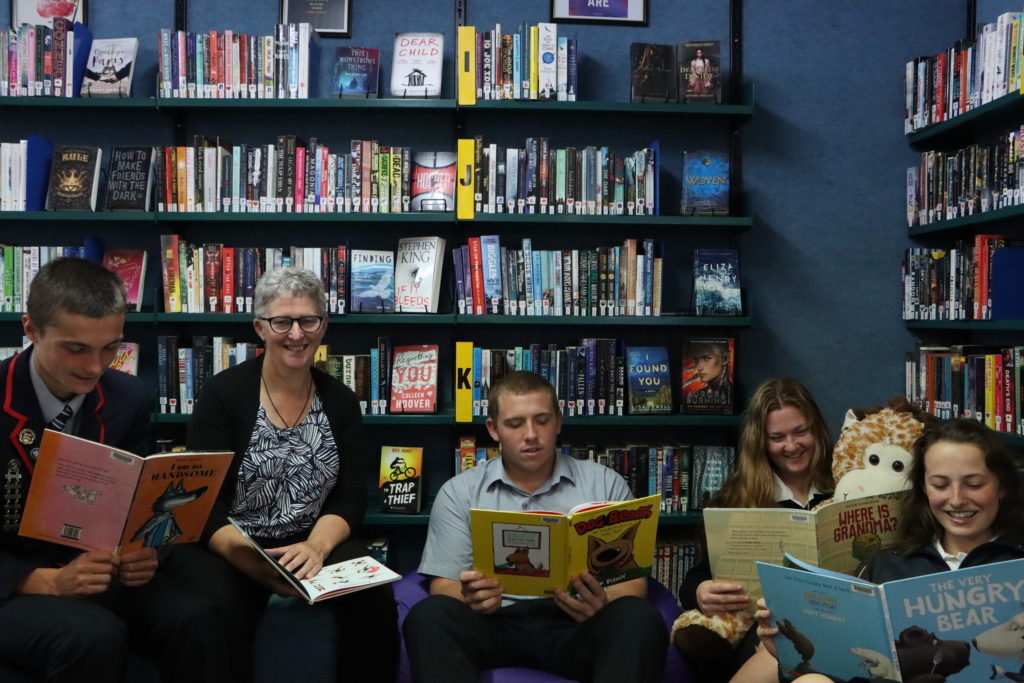 ---
Glenys Bichan is the Library Manager at Cambridge High School and the current President of SLANZA (School Library Association of New Zealand Aotearoa). She has been a librarian for 10 years and loves every day that she gets to walk into her library.
---
Want to hear more from Gecko Press? Every month we send out a newsletter with all of our latest blog articles, book lists, activity sheets, and sometimes a competition too! Sign up to our mailing list here.