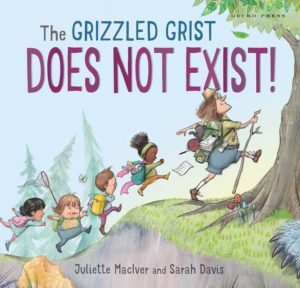 Each year the International Youth Library (Internationale Jugendbibliothek) based in Munich, Germany publishes a catalogue called The White Ravens with a selection of notable books from around the world. A group of children's literature experts makes the selection from the thousands of children's books that are sent to the library annually, and narrows them down to a list of 200 books.
The Grizzled Grist Does Not Exist by Juliette MacIver and Sarah Davis was selected as a White Raven 2023—the only Aotearoa New Zealand book to be selected. The judges said
"Renowned author Juliette MacIver is a whizz at delivering a flawless and exhilarating rhymed text, which meets its match in Sarah Davis's vibrant illustrations brimming with comical details. The witty pictures also provide plenty of visual clues and funny asides. All through the book, they reveal that Liam's talent of hiding and observing the environment carefully is a heroic skill indeed. An entertaining read that begs to be acted out on stage."
You can browse the full catalogue on the White Ravens website here.
The Grizzled Grist Does Not Exist is an exuberant rhyming picture book about a school trip to the hills, where no one sees the danger—apart from quiet Liam, who pays attention and saves the day with his particular skill of hiding.
Available from all good bookstores and on our website.