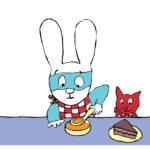 Join Simon the Rabbit in these cheeky activities!
Starting with the international bestselling picture book Poo Bum, and now an animated series screening worldwide, the Simon series stars a cheeky rabbit who always gets what he wants.
The following activity sheets are downloadable. Please print out as many as you like.