By Rachel Lawson, Publisher at Gecko Press
The Bologna Children's Book Fair is a cornerstone of the Gecko Press business, and it was magnificent for me and Julia to be back under the porticos in Italy this March—four years since the last visit!
This annual children's book fair is where we buy rights to the books we translate and publish in English. During three days of meetings, publishers, rights agents, authors and illustrators congregate to buy, sell and talk about children's books. For Gecko Press, the networks and bumpings-into are also vital to building a picture of the books we want to publish, so we have sorely missed this opportunity since our last visit in 2019.
Preparing the legs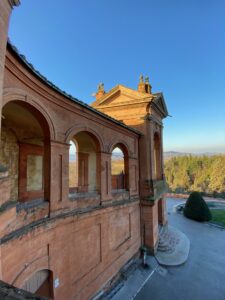 The pre-fair weekend is a chance to march up the 500 steps to the Sanctuary of the Madonna of San Luca, to clear the jetlag and prepare the legs for the many capacious halls of the fair itself. This year the air at the top was a sparkly but very crisp reminder that we were barely on the doorstep of spring.
Then, as is also tradition, we squeezed in our first meeting on Sunday, when the halls are quiet with just a few people setting up and held our last meeting while stands are deconstructed and wheeled away all around us on Thursday afternoon. There's nothing like a 35-hour plane journey to encourage you to make the most of time at the fair.
The bus trip home on Sunday began the social serendipities, which is one of the important benefits of attending the fair in person.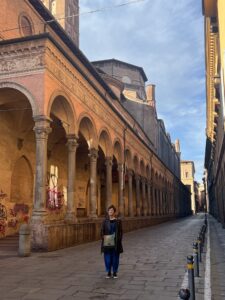 Already on the bus were publisher friends from Jungbrunnen and, a couple of minutes later, Markus and Franziska from German publisher Moritz Verlag.
What delight!
These accidental meetings and conversations—snatched on the bus, between meetings, in the extremely long queue for the toilets—are a chance to swap news and good books.
They round out and fill in the focused half-hour meetings, helping to make a picture of the books we are interested in and balance the variety of books we will publish in the coming year.
Meetings in booths and aisles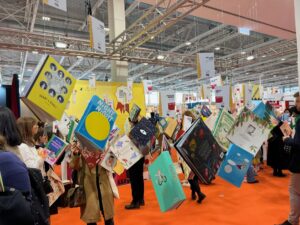 Between us, Julia and I had over 80 meetings in the four days, plus dinners, exhibitions and other bits and bobs. That's more than 200 books over the course of the fair. A book needs to really stand out to rise to the top of such a pile.
The best way to achieve that—for me anyway—is an open conversation with a rights agent or publisher about the book's essence, the author's writing, how it feels and has done in the original language. A really good meeting might involve only a couple of carefully chosen books and time to explore together whether one might be for Gecko Press or not.
The aisles host as much business as the booths—perhaps a homage to the 'ambulatory' idea of Bologna's porticos. A serendipitous falling-into-step with an acquaintance down the long aisle can be the most valuable conversation of the day. I was very pleased to meet one of our translators Helen Wang—we'd only talked on email before (I texted 'orange cardigan'; she replied 'blue scarf')—and then to stride with her to the back of Hall 26 for an impromptu meeting with her friend and Chinese rights agent, with whom I'd also exchanged emails but not books. In the five minutes before my next meeting, we looked at two really good books together.
Tortellini with sage butter, again (yum)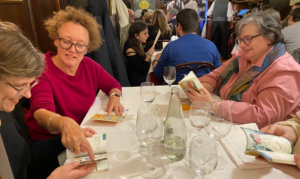 The restaurants of Bologna are as full of fair business as the convention centre itself. Our first lunch was with School Library Journal reviewer and blogger Betsy Bird and our US publicist Ellen Myrick. Betsy mentioned that she always notices how accurately illustrators render the use of knitting needles in picture books. I found myself photographing illustrations for her all fair—turns out it's pretty hard to knit with cloven hooves.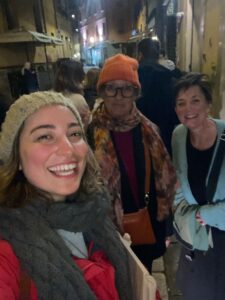 At a magnificent dinner hosted by French publisher L'ecole des loisirs—the most beautiful Tortellini al Burro alla Salvia of my week—we discussed comics, bookshops and workshops, the international perception of Macron (complicated!) and met illustrator Olivier Tallec—only to have Tallec's new book featuring a lugubrious mushroom make our day at the end of a very long Wednesday the day after.
After all that tortellini, a serendipitous mushroom.
The selfie to the right is after dinner with Gecko Press's Turkish agent Ayşenur, and (below) outside the magnificent children's bookstore Libreria dei Ragazzi with Marta from Italian publisher La Nuova Frontiera and Markus from Moritz Verlag. Julia's orange hat didn't come off often.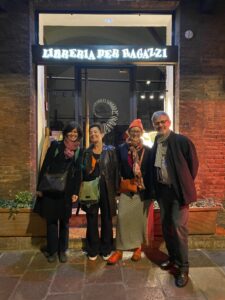 On Wednesday night the bus stopped in a traffic jam so we got off and strode into town on the heels of German illustrator Anke Kuhl, hilariously walking in circles to follow her app's directions to our restaurant. There we saw a wonderful new book and re-met an old book that we need to reconsider.
By Thursday dinner, vegetables become a priority, and the zucchini at Osteria Broccaindosso were very welcome. We bumped into Ken from Poplar Publishing and invited him to join us, adding Japan to our table of publishers and agents from Italy, London, Taiwan and Germany. We discussed varying degrees of elegance in drawing Chinese characters; the wine, pasta and pudding, of course; but also the books that were rising to the top of everyone's fair.
Home with the notebooks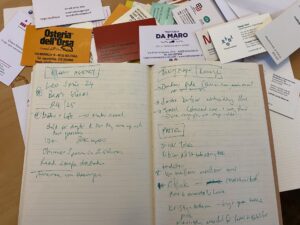 Back in the office we have notebooks, photographs of book covers, dozens of business cards (from favourite restaurants too!), follow-up emails from our multitudinous meetings, and those memorable snatches of conversation to help us decide which books we will publish in 2024.