John McIntyre of the Children's Bookshop Kilbirnie was a champion and friend of many, and myself and all of us at  Gecko Press are just very sad that he has died. Our hearts go to Ruth and the Children's Bookshop and all his family, many of whom we met at his 65th birthday this year.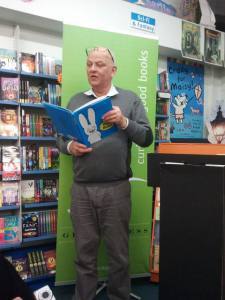 I have just read the speech that John wrote for Gecko Press when we turned five – that's eight years ago. He talked about dreams, perseverance and that thing he used to say often: that things that are worth doing are not easy, and if they were easy they wouldn't be worth doing. And, he would add, "if it was easy someone else would have done it already".
He talked about having the courage to give something a shot, about the sheer hard slog involved in surviving, and the immense satisfaction in proving the doubters wrong.
I have seen John and Ruth go to every children's book event, in every weather, at every hour of the day. He kept on coming, even at his most not well. Every day to the bookshop, every time to launches, to bookseller dinners, events.
Everyone who has ever visited the Children's Bookshop has a story of someone he has found a book for that got a child reading. For me it was a nephew – and there are hundreds and hundreds more of them.
And somehow he was doing the same for Gecko Press, helping us get the hang of reading, giving us a boost when he thought we deserved it.
Sometimes you know someone is not well but you still think they will be there forever. John said he always told Ruth he wouldn't make old bones. He was a dear, funny, blunt-as-they-come man with the driest sense of humour you ever met. I think he was a man of great character and fortitude. I only made him laugh twice – out of shock – but he certainly made me laugh.
He was a lodestone, and there is an almighty crater-hole right now where that used to be; so it is lucky Ruth and the Children's Bookshop and all the gorgeous staff at the bookshop are around to fill that gap, and I hope the rest of us can do something to help.
For me that means being out in all weathers, doing something somewhere to help some child get the hang of reading.