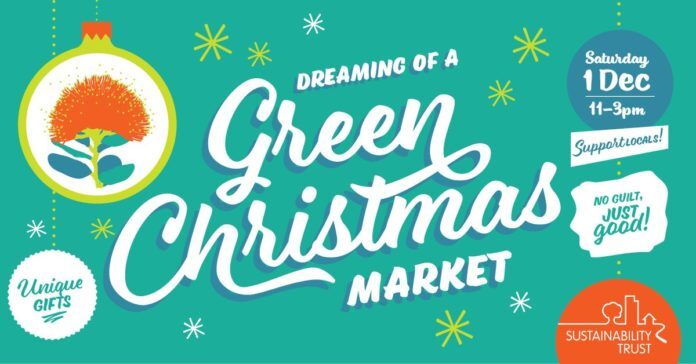 We'll be at the Sustainability Trust Christmas market on Saturday 1st of December… A great opportunity to do your Christmas shopping! ???
What you can expect from the Green Christmas Market:
A four-part ukelele band that is guaranteed to get you movin' and shakin'
Coffee from the crew at Good Fortune Coffee. Every cup is 100% fair trade and made by people on the living wage
Food made with love by former refugee cooks at the Pomegranate kitchen
Organic cotton undies by women from refugee backgrounds. Nice one Nisa
A standing ovulation from the crew at Wā Cup, who are freeing women and girls from period poverty one cup at a time
Boutique plant-based skincare from Aphelia, MARTYGIRLskinfood and the Underground Soapery.  Aphelia opts for organically certified ingredients that are packaged in recyclable, reusable and biodegradable containers, while MARTYGIRLskinfood is a bit more 'hands-on' when it comes to getting their ingredients
Then there's the Underground Soapery. All their products are free from palm oil and plastic. Word on the street is that they even make their own paper bags using old books and pamphlets
If you're more interested in chocolate, then The Chocolate Bar is the stall for you. They specialise in the finest, fairly traded cacao in the business. Bean to Bar, from afar!
Don't have a sweet tooth, then how about a citrus tooth? Lady Lemon has your back. World-famous in Wellington, Lady Lemon's lovely lemon curd is organic, fair trade, sustainably sourced and finger-licking good
Got kids? Or buying gifts for someone else's kids? Well, Gecko Press and Hoopla Kids can sort you out.
Gecko Press makes books designed to last – timeless and durable.. and dare we say it, sustainably sourced!
Maybe you have kids or know kids who like to look cute and despise polyester. Well, they might not know it yet but polyester: bad. Organic cotton: good. Cheers Hoopla Kids for keeping kids in line and dressed fine.
We hope to see you at the Green Christmas Market! Sat, 1 Dec from 11-3 at 2 Forresters Lane, Wellington.