For Te Wiki o te Reo Māori, we have asked Lucy Ira Bailey (Te Ati Awa, Ngāti Mutunga, Taranaki), the senior bookseller at The Children's Bookshop in Wellington, to curate a list of books in te reo Māori that she loves to recommend to customers .
Find these books at a good local bookshop or click the links to get them from The Children's Bookshop.
---
There are more and more books coming out in te reo Māori, which is just so brilliant to see! Here are some of our favourites. We are so pleased to be able to say this is not all of them!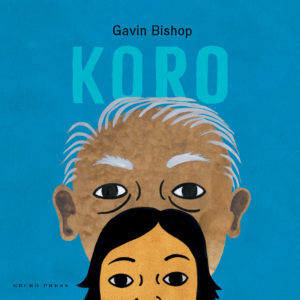 Mihi and Koro by Gavin Bishop
Gavin Bishop's Mihi came out last year and is now one of the most popular books for new babies. Babies love it and it can be read again and again without some of the pain of other well-loved baby books. With its simple language and strong imagery, it's an excellent book for a discussion around your own mihi or pepeha – which has also made it a great resource for all language learners. Koro is due out this month and we expect this gentle story of a koro and his mokopuna to be just as well received with its more complex, yet still simple, language appealing to those who are taking their first steps into te ao Māori.
Winner of the 2021 NZ Book Awards for Children and Young Adults Wright Family Foundation Te Kura Pounamu Award for Te Reo Maori.

This well-known pūrākau acknowledging the formation of Te Whanganui a Tara is told from the perspective of tangata whenua Te Kāhui Maunga. It explores the movements of the earth and the reasons behind our place names. Like 
Te Uruuru Whenua o Ngātoroirangi
 it is only available in te reo Māori.
Follow in the footsteps of tohunga Ngātoroirangi as he travels across the central plateau. Te reo Māori highlights the mita (dialect) of tangata whenua of the region. A stunningly illustrated almost-graphic novel for more proficient readers of te reo Māori. Like 
Ngake me Whātaitai
 it is only available in te reo Māori.
Te Hipo Huna by Juliette MacIver, Sarah Davis and Karena Kelly
We all love this energetic tale of the hunt for a missing hippo so it's wonderful to see it in te reo Māori. The rhythm, rhyme and cadence required to read this aloud is sure to improve the reader's pronunciation – and the call and response of the repeating phrases will have everyone joining in. E hipo tēnā? KAREKAU!
We are overjoyed to see Te Kuia me Te Pūngāwerewere back in te reo Māori after many years. First published in 1981, the original translation was by the great Hirini Melbourne and has now been updated by Keri Kaa with macrons and everything! The bickering between te kuia and te pūngāwerewere is just as delightful now as it was 40 years ago. Hopefully they are still arguing and will continue forever.
Te Tuna Wātakirihi me Ngā Tamariki o Te Tiriti o Toa was also translated by Hirini Melbourne back in 1985 but has been much more difficult to find since then. This is such a joyful book and it's quite incredible how little Cannon's Creek has changed since the 80s. There's a fabulous mix of cultures and backgrounds which is still true today but my favourite part of this book is learning all the words te reo Māori has for dance compared to te reo Pākehā!
The beloved myth of Rona and the Moon comes to 21st-century Aotearoa in English and Māori in Tim Tipene's sensitive interpretation, strikingly illustrated by Tai Tokerau artist Theresa Reihana.
Rona Moon gets angry with everyone, her brother, her nana and papa, and then one night she calls the moon stupid! Taken to meet her ancestor Whaea Rona on the moon, she learns a lesson in how to control her temper.
I absolutely love this! Rona's grumpiness, eye rolling and stuck out bottom lip are reminiscent of so many girls this age. I think a lot of readers will find Rona, her brother, the whānau and their whare very familiar and that's not the case with many books. It's also on point with the advice on dealing with anger which is a very hot topic right now.
Nōu te Ao, e Hika e! (Oh, the Places You'll Go!) by Dr Seuss and Karena Kelly
Dr Seuss' Oh, the Places You'll Go! has long been the perfect gift for anyone facing a big change in their life, from starting school to graduations to weddings. Karena Kelly has done some fabulous mahi translating the wit and wisdom of Seuss as well as the rhythm and rhyme into te reo Māori which has retained the joyfulness and wordplay of the original. A real treat!
Te Kaieke Tohorā (The Whale Rider in te reo Maori) by Witi Ihimaera and Tīmoti Kāretu
A modern classic available at last in te reo Māori! Unfortunately reading Te Kaieke Tohorā is far beyond my abilities but I am assured by those who can read at this level, that this is great.
The birth of a daughter – Kahu – breaks the lineage of an East coast iwi. Rejected by her grandfather, Kahu develops the ability to communicate with whales, echoing those of the ancient Whale Rider after whom she was named.
This magical and mythical novel tells of the conflict between tradition and heritage, from the perspective of Kahu's grandfather, and Kahu's destiny to secure the tribe's future.
Ko tētahi o ngā tino kōrero mā ngā tamariki ā mohoa nei, ko tā J.K. Rowling Harry Potter and the Philosopher's Stone, kua whakawhitia ki te reo Māori.
One of the greatest children's stories of all time, J.K. Rowling's Harry Potter and the Philosopher's Stone, translated into te reo Māori.
For language learners, especially for those who have memorised the first book in this series (and we know there are many of you!), this is a great way to explore more complex language. For our rangatahi and tamariki who are fluent in te reo, the options for reading beyond picture book level have been severely limited so this is fantastic … and we need more!
Nau Mai Haere Mai ki Te Kura Matarau o Howata!
A huge, beautifully illustrated and annotated, papakupu whakaahua (picture dictionary) which is a fun, easy-to-use resource for those wanting to discover, learn and use everyday words in te reo Māori. There are over a thousand kupu Māori translated into te reo Pākehā in this big hardback book and the illustrations (from the author/illustrator of the Kuwi series) are captivating. It's aimed at older (or more proficient) readers than the existing picture dictionaries with sections on ngā whekū (internal organs), te anga (skeleton), te ao (the world), and te ao tukupū (the universe) which I haven't seen in other publications. The Kuwi and Friends Māori Picture Dictionary is designed for everyday use in the whānau or kura.