In French, "7 lieues et un livre", the name of this project, is a pun. "7 lieues" is a literary reference to fairy tales and to "Seven-league boots". If you consider only the pronunciation of this name and not its spelling, it can also mean "7 places and one book". "One book" because I wanted to focus on THE picture book for children, as a concept and as an object. "7 leagues/places" because I am travelling the world, going to 7 different countries to do so.

7 lieues et un livre started as a challenge while I was still a student. At that time, I had already done two internships abroad in publishing houses for children, one in the UK at Hogs Back Books and the other in Lebanon at Samir Editeur. There, I learnt a lot about books, about publishing and about new cultures as well because children's books are the reflections of our cultures and our values.
So, I was keen on building a new big project that would go beyond myself and that could give to other people – lovers of curiously good picture books – a panorama of picture books in 7 different countries and of the process of making books. I got in touch with 7 different children's book publishers on the 5 continents. I suggested they take me as an intern for a month so I could meet them, see how they work, understand the children's book market in each country, as well as work with them on their publishing. After a year of preparation with the foreign publishers, of paperwork and after I had found some partners in France to help me in this project, I ended up with 7 very different publishers and countries: Yanbow Al-Kitab in Morocco, Orfeu Negro in Portugal, Bakame Edition in Rwanda, Karadi Tales in India, Gecko Press in New-Zealand, Amanuta in Chile and 400 coups in Canada. In January 2018, I was ready to begin one of the most adventurous "whims" of my life so far (at least this is how my mother describes it).
At the moment, it is hard for me to judge how far this project has led me, even at the antipodes of France. Regarding books, I have seen and done so many things that I try to share on my blog and social media. For instance, I conducted a workshop in Morocco at the Alliance Française with children who didn't know Moroccan children's picture books even existed. I was also really surprised when I discovered a tale about greed for goat meat in Rwanda (my conception of greediness is more about anything that has sugar in it). One of my best memories is my visit to Tara Books' printing building in India. This publisher releases some books made by hand, from printing to binding.
From a more personal point of view, I have met so many fabulous people within the publishing houses and in real life, with whom I was fortunate to share some unforgettable moments, like a safari in Rwanda or Fado nights in Portugal.
And then I came to New Zealand. During the week, I work at Gecko Press and, when the weekend comes I try to see as much as I can of this beautiful country. I am really proud of being able to work at Gecko Press. For a few years now, I have followed their work and I have been curious to know more about the process of choosing books from abroad to translate them into English. It is such an unusual choice of editorial line for an English-speaking publisher. I wanted to know more.
My first experience as a publisher was in the UK with English literature and, since then, I have worked with other English-speaking publishers. Somehow, I feel close to their way of publishing. In my view, there is a way to tell stories in English, a long tradition of heart-warming and sweet tales. Furthermore, my favourite children's author is Canadian: Jon Klassen. I discovered his book This is not my hat when I was working in the UK and maybe I wouldn't have studied publishing without him and his fantastic work.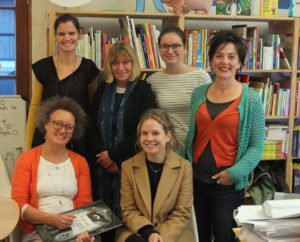 Thank you to Gecko Press team for welcoming me so warmly and don't hesitate to follow and to share around the blog (both in French and in English) and the social media!
Read the interview of Julia Marshal by Noémie here!